Going to the Market
What is it like to shop at a foreign market?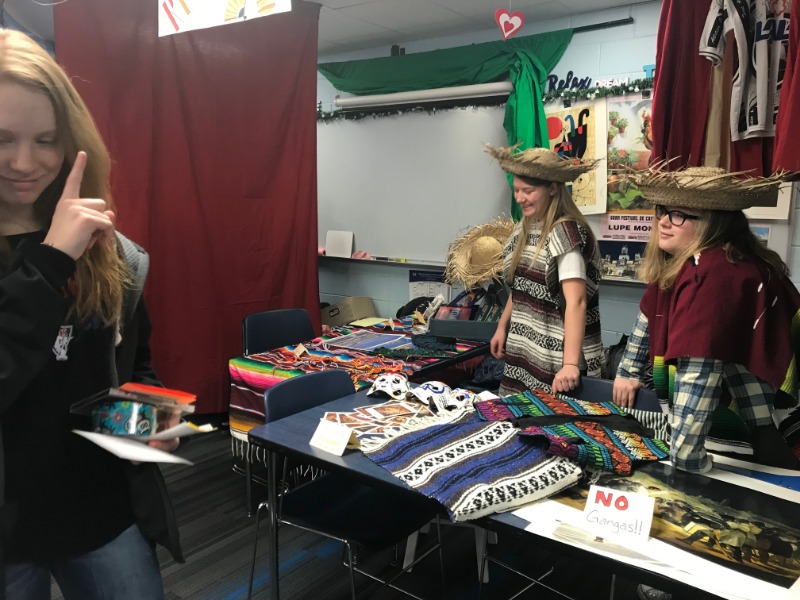 What is it like to visit a foreign market with limited language skills? A few Spanish I students might be able to tell you. On Wednesday, February 6th, Spanish I students became tourists/exchange students looking to purchase a list of goods, ranging from school supplies, food, and souvenirs. During our current chapter, we had discussed how to locate and ask for the location of an object in the room, we reviewed numbers, helpful expressions when one does not know what an item is, as well as how to discuss quantities of objects and costs. In order to take our trip, students created a passport and completed the required information in Spanish. To take away some difficulties, students were allowed a dictionary of helpful expressions which they could refer to, if needed. Classes practiced the role of a seller and customer, viewed videos of busy market places to know what to expect, and
During this yearly simulation there are rules before taking in this shopping experience. Students are required to only use their Spanish skills and not revert to English. (Doing so means a loss in points.) Rule 2, is only purchasing the listed items given to them with the foreign currency given to them. In grading these, I can confidently say that there were lots of fantastic grades. Students that participated daily, did a wonderful job at expressing their needs in the Spanish language. While students can become frustrated, it is normal to have such feelings. Imagine for a moment, your young child asking for something with limited vocabulary. They incorporate pointing and other hand gestures to get the job done. These skills are also prevalent in language learning. While the larger classes are a bit more hectic, it does provide students with an opportunity to peek into their strengths, as well as weaknesses that can be improved upon. Yes, they did get to play store today. But students also developed language skills, coping skills, financial skills on a limited budget and the ability to visibly see their language growth.
A huge thank you should also be given to Spanish III/IV students who used a prior chapter of knowledge to accomplish the feat of running a busy. They create a store inventory, accounted for sales, while keeping a balanced cash drawer. Any of these students could win over any retail busy with their bilingual skills.