Adaptive Seating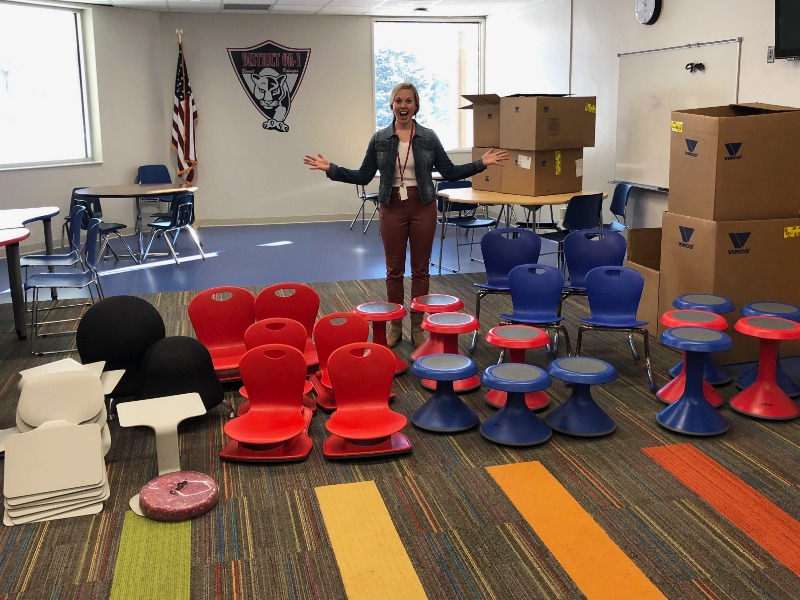 Has your child talked about an opportunity to sit in a different seat in their classroom? District OR-1 is beginning to explore and incorporate the concept of flexible seating in our classrooms. Flexible seating is a research-based concept for classroom design. With administrative support, I am excited to share we are rotating six different options for flexible seating throughout our classrooms this semester. This new concept is creating excitement among our students and staff! It is a process we will continue to gradually explore more with each school year. Students will have the opportunity to try a wobble stool, floor desk, stability ball chair, floor rocking chair, wiggle cushion, and rocker chair for a period of time in their classrooms.
There are several benefits of flexible classroom seating.
Choice.

Students feel empowered by having some degree of choice and control over their environment. Flexible seating allows students to choose where they work and with whom during work time. It also allows them to change their location and positions as needed.

Physical Health. Students

need to move. Flexible seating allows them to wobble, rock, bounce, lean or stand, which increases oxygen flow to the brain, blood flow and core strength. In turn, this burns more calories and increases metabolism. The movement also helps keep young minds more alert and focused.

Comfort.

An uncomfortable student is a distracted and unproductive student. Flexible seating encourages students to find their best spot to stay calm, focused and productive.

Community.

Traditional desks can make students territorial or possessive over their space and supplies. Flexible seating encourages students to share both. And, it encourages them to take turns in different locations and with different seating options.

Sensory Input.

Many flexible seating options stimulate students' proprioceptive system and sense of touch. This type of stimulation can help children focus and process information better. Sensory input is especially helpful for students with ADHD, ADD and Autism. However, all students benefit from the increased sensory input in their day.
Flexible seating comes with clear rules and expectations for our students. We are so proud of our students at District OR-1 for understanding the rules and taking responsibility for their learning while trying something new. Students and staff have embraced this opportunity with excitement and we are all looking forward to integrating flexible seating options gradually into our schools.